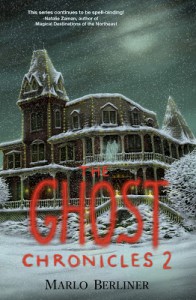 My Halloween read for a bingo!
Michael and Sarah are dead, but that doesn't mean that they can't make the most out of their afterlives. For some reason they are stuck in between as ghosts. Just now, months after Michael's death and decades after Sarah's death are they learning their true purpose for remaining on Earth. However, their positions come with danger. Michael is being chased by demons who are wreaking havoc on the spirit world and the corporeal world and they are using Sarah as bait. Meanwhile, Michael and Sarah are trying to make the most of their afterlife romance while learning what they can from other ghosts around them, checking in on Michael's living family and trying to come to terms with their newfound purposes.

This episode of the Ghost Chronicles was action packed. Michael and Sarah's story picks up right where it left off in book one. I was glad to see that they were still happy in their situation in the afterlife as well as finding out more about why they were not able to move on. Ghost Chronicles Two was kept fast-paced with interchanging scenes of of levity, parties and fun with demons, battles and suspense. I really enjoyed learning more about the afterlife and how all of the ghosts were content to be equal in death no matter of race, religion or station in life. It was also very fun being able to see glimpses of famous ghosts such as Albert Einstein. Most of all, I appreciated how Michael's new position allowed me to see how good can come out of death. It was interesting learning about the Cocoanut Grove fire through the eyes of those who were there. I can't wait to read more about Michael and Sarah's new found job and amazing powers in the next book.

This book was received for free in return for an honest review.